Crazy Time Game Overview
Find out everything about playing live action game Crazy Time by Evolution Gaming. See the RTP, bonus rounds, odds and payouts.
Best Crazy Time Casinos Online
Casino
Casino Details
Bonus
Features
Play
Betting available
Live Casino Games
Mobile friendly
Established
2012
Licence
Malta Gaming Authority, Danish Gambling Authority, Swedish Gambling Authority
Total Games
1500+
100% up to C$1200
600+ Games
Good Mobile Casino
Established
2000
Licence
Malta Gaming Authority, Alcohol and Gaming Commission of Ontario
Total Games
600+
25 FS per day over 8 days
Fast registration
Fast payouts
Established
2019
Licence
Malta Gaming Authority
Total Games
700+
What is Crazy Time?
Crazy Time Live is an exceptional live casino game show that reimagines the Dream Catcher money wheel concept. Introduced by Evolution Gaming, a renowned online gambling solutions provider, this innovative game offers a captivating twist on traditional casino experiences. Launched in mid-2020, Crazy Time Live invites players from Canada to engage in various competitions, all overseen by a live dealer who ensures an immersive and authentic atmosphere. With a dynamic wheel boasting 54 segments, including money prizes ranging from 1x to 10x, and four distinct bonus rounds—Coin Flip, Cash Hunt, Pachinko, and Crazy Time—Crazy Time Live brings unparalleled entertainment to the online gambling world.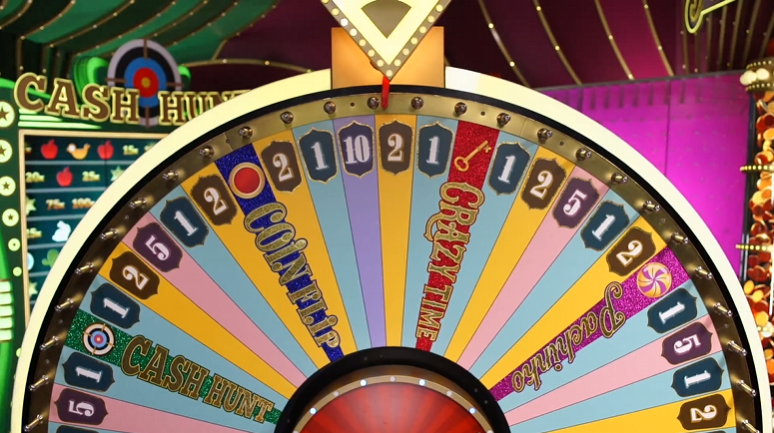 Crazy Time Game Overview
| | |
| --- | --- |
| 🕹️ Software Provider | Evolution Gaming |
| 📉 RTP | 95.5% |
| 💰 Features | multipliers, different bonus rounds |
| 💶 Minimum Bet | $0.10 |
| 💴 Maximum Bet | $1000 |
| 💸 Top Win | $500.000 |
| 🎰 Bonus Games | Coin Flip, Cash Hunt, Pachinko, and Crazy Time |
Crazy Times General Overview
Bonus Rounds
Crazy Time, the thrilling live casino game shows, offers an array of electrifying bonus rounds that promise excitement beyond measure. Each bonus round carries a distinct theme and gameplay. What sets Crazy Time apart is the diverse payout structure of each bonus round.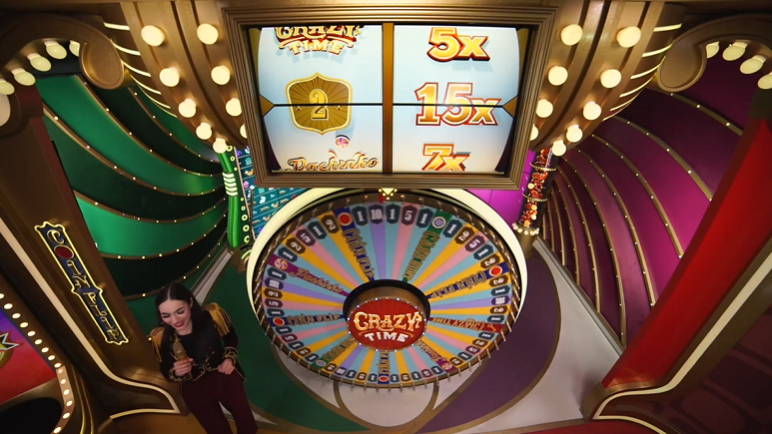 Pachinko Bonus Game
Feel the allure of Pachinko, an intricate game originating from Japan. The host drops a ball that bounces unpredictably through various stops on a vivid game board, where the ball lands to determine your prize, which could reach an astonishing 500x your stake.
Coin Flip Bonus Game
Simple yet exhilarating, the Coin Flip Bonus involves a coin with red and blue sides. Two multipliers, one for each side, grace the screen. The coin flip unveils the red or blue prize, offering a chance at an incredible 5000x stake multiplier.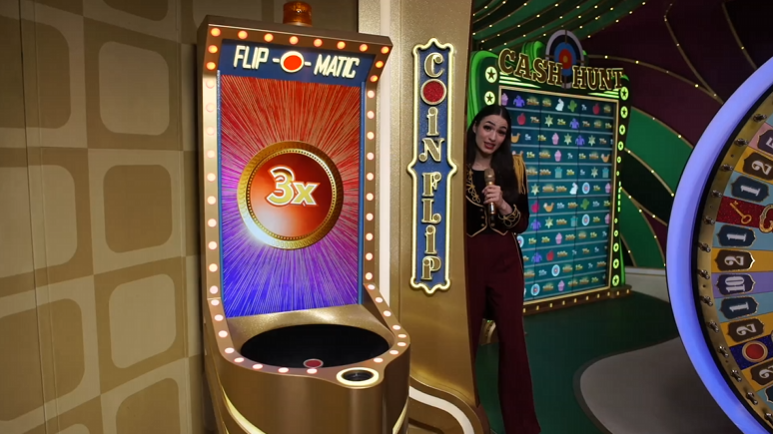 Cash Hunt Bonus Game
Immerse yourself in a colossal shooting gallery adorned with 108 random multipliers. Symbols like pink cupcakes and gift boxes obscure these multipliers, reaching up to 75x your bet. Each player selects a target, and the cannon reveals individual multipliers, enhancing the anticipation.
Crazy Time Bonus
The pinnacle of excitement, the Crazy Time Bonus Wheel, beckons. Select a flapper before the host activates the colossal wheel. Where the wheel halts determines your prize, with a chance for 'Double' or 'Triple' multipliers that can lead to staggering wins of up to 20,000x. Beyond the rewards, this visually and mentally captivating round sets the stage for unparalleled entertainment.
Crazy Time Casino Bonuses
| Casino | Live Casino Bonus |
| --- | --- |
| 🥰 Conquer Casino | 100% up to $200 |
| 📀 Casino.com | 100% up to $250 |
| 🎩 Rizk | 100% up to $250 |
| 🗯️ LuckyDays | 100% up to $500 |
| 💎 Wheelz Casino | 100% up to $800 |
Top Crazy Times Casino Bonus Offers
Pros and Cons of Crazy Time
To provide an informed perspective on playing Crazy Time, it's essential to consider both the advantages and disadvantages. Here's a breakdown of the pros and cons we encountered during our time with Crazy Time:
High Value: The game offers an abundance of engaging bonus rounds and features vibrant and intricate decor that amplifies the overall excitement.
Simple Gameplay: Playing Crazy Time is easy – your main task is placing bets. This accessibility makes it suitable for both new and experienced players.
Big Payouts: The potential to win substantial payouts, with the Crazy Time round offering the chance to claim up to 20,000x your stake, adds a thrilling dimension.
Interactive Nature: The chat feature enhances the interactive aspect of the game, allowing you to connect and communicate with fellow players, contributing to a sense of community.
Too Dynamic for Some: The distinct bonus rounds and vibrant decor might overwhelm players who prefer more traditional or subdued games.

Busy Host: Unlike games like live blackjack or roulette where you can interact with hosts, Crazy Time's pace and complexity may limit your interaction.

No Demo: For players new to Crazy Time, the lack of a demo version could result in a steep learning curve if you're not acquainted with the game mechanics beforehand.
How to Play Crazy Time
Follow these simple steps to bet and play Crazy Times Game:
Step 1

Access the Game

Log in to your preferred online casino and visit the live casino section. Choose Crazy Time to begin your adventure. Once inside, you'll be greeted by the charismatic presenter in the vibrant studio. At the screen bottom, you'll find the array of betting options.

Step 2

Place Your Bets

With 8 different options to bet on, select the amount you wish to wager and decide where to place your bets. You can even bet on multiple options simultaneously for added excitement.

Step 3

The Wheel Spins

Watch as the presenter spins the wheel, setting the stage for your exhilarating experience. The slot machine on the screen above the wheel turns in harmony with the wheel's motion.

Step 4

Reveal of Special Multiplier

With each wheel spin, a unique multiplier is assigned to a specific segment. If the wheel halts on that very segment, the multiplier is activated, enhancing your potential winnings.

Step 5

The Wheel Stops Spinning

The presenter announces the result where the wheel's flapper lands. If your bet aligns with the outcome, you're a winner. In the case of a Top Slot multiplier being active, your payout receives an additional boost, multiplying your winnings.

Step 6

Bonus Rounds and Beyond

Should the wheel stop on any bonus round segment, the corresponding bonus game is triggered. Players with active bets proceed to the bonus round, while others observe the excitement unfold. The opportunity to amplify wins with a pre-selected multiplier during the Top Slot selection adds an extra layer of excitement to the game.
Crazy Time Strategy
Mastering a successful strategy for playing Crazy Time requires a calculated approach considering the game's dynamics and probabilities. Here are the strategies that enhance your gameplay and potentially boost your success playing Crazy Time:
Balanced Betting Strategy
Betting solely on numbers might seem prudent, but it may not lead to sustained success. Relying solely on numbers can lower odds, payouts, and significant losses. Instead, a balanced approach is recommended, where both number bets and bonus round bets are included in your strategy. Prioritize placing more bets on bonus rounds, as their potential for higher rewards over the long term is more promising. Like other casino games, strategically timing your bets based on the game's probability distribution can be advantageous.
Low-Volatility Tactic
For those who prefer a cautious approach, the low-volatility tactic involves spreading bets across multiple wheel segments. Allocate a portion of your budget to place bets on diverse options. Doing so increases the likelihood of covering a significant wheel portion. This method allows you to minimize risk while maintaining a decent chance of winning. Dividing your bets between numbers and bonus round fields can lead to a more balanced play time.
Trend History Strategy
Engaging in the trend history strategy demands patience and analytical thinking. Review the history of previous game rounds in the Game History tab. Observe patterns of winning options that have appeared frequently within a specified number of rounds. Consider incorporating those options into your strategy if certain bets consistently emerge within a specific timeframe. However, remember that Crazy Time's unpredictability means no strategy guarantees a win every time. The trend history strategy uses probabilities to guide your choices, but outcomes remain uncertain.
Martingale Strategy
The Martingale strategy requires disciplined budget management and an understanding of risk. You can capitalise on this trend since approximately one in six rounds involve a bonus game. Start by betting equal amounts on all four bonus round segments. If a segment fails to win, double your bet for the next round. Continue this pattern until you hit a bonus game segment and secure your winnings. While this strategy can be lucrative, exercise caution and ensure your budget can withstand potential losses.
Keep Probabilities in Mind
No matter what strategy you employ, always remember that Crazy Time's outcomes are influenced by probabilities and chances. Even the most well-thought-out tactics cannot guarantee victory in every instance. Responsible gambling remains crucial. Play within your limits, and consider the entertainment value alongside potential winnings.
Payouts and Odds
| Bet | RTP | Wheel Segments | Probability | Payout |
| --- | --- | --- | --- | --- |
| 1 | 96.08% | 21 | 38.85% | 1:1 |
| 2 | 95.95% | 13 | 24.05% | 2:1 |
| 5 | 95.78% | 7 | 12.95% | 5:1 |
| 10 | 95.73% | 4 | 7.40% | 10:1 |
| Pachinko | 94.33% | 2 | 3.70% | up to $500,000 |
| Cash Hunt | 95.27% | 2 | 3.70% | up to $500,000 |
| Coin Flip | 95.70% | 4 | 7.40% | up to $500,000 |
| Crazy Time | 94.41% | 1 | 1.85% | up to $500,000 |
The Odds and Payouts Overview
Please note that the RTP (Return to Player) values indicate the average return to players over the long term based on the probabilities and payouts of each bet type.
Graphics and Sounds
Crazy Time offers vibrant visuals, with a colourful wheel representing distinct bonus rounds. The Coin Flip Bonus includes a gold machine with lights, Pachinko showcases captivating lights in a glass box, and Cash Hunt presents animated objects. The Crazy Time Bonus Game boasts a golden wheel against a charming backdrop. Hosts in captivating costumes enhance the experience. Sound notifications from the chat box encourage engagement, and muting the host is an option for focus. In Canada, Crazy Time delivers visually immersive and sonically engaging gameplay.
Other Game Shows to Play
If you're captivated by the immersive experience of Crazy Time, you'll likely enjoy exploring other live casino games that offer a similar thrill. Monopoly Live and Dream Catcher are excellent options to consider. These virtual games also boast a game show-inspired atmosphere, providing players with unique and engaging gaming. These alternatives share some things, but they might not match the vibrant and entertaining nature of Crazy Time.
Discover a selection of players' favoured live casino games:
Live Roulette: Feel the authentic casino ambience with our real dealers. Choose from various game views, including a multi-camera immersive perspective that brings you closer to the action. Enjoy features like autoplay, detailed statistics, interactive chat, and the ability to save up to 15 favourite bets.
Lightning Roulette: Experience the electrifying variation of classic table games. Lightning Roulette introduces multipliers of up to 500x, which can strike any moment, adding a thrilling element to each spin.
Live Blackjack: Get a genuine experience tailored for players of all skill levels. This live variation allows you to play conveniently, whether you're at home or on the go.
Andar Bahar: This popular card game from India has made it to our casino. With its simplicity and excitement, Andar Bahar is accessible to all players. Your task is to predict which side will match the joker card – choose wisely to claim your victory.
FAQ
What is Crazy Time?
Crazy Time is a captivating game developed by Evolution Gaming, featuring a spinning wheel of fortune that stops at various prizes. Players who place bets on the correct outcome have the opportunity to win.
Is Crazy Time available to play in Canada?
Crazy Time can be enjoyed at numerous online casinos in Canada. Additionally, new players can make the most of generous welcome bonus offers.
Where can I access Crazy Time?
Crazy Time is accessible on several Canadian online casinos, many of which are listed on CasinoCanada.reviews. Moreover, you seize welcome bonus rewards upon registration.
Can I enjoy Crazy Time on my mobile device?
Indeed, Crazy Time is perfectly optimized for mobile play. Whether on Android, Apple, tablets, or other devices, the game offers seamless flexibility and convenience.
What sets Evolution Gaming's Crazy Time apart?
Crazy Time distinguishes itself with its abundant multipliers and the inclusion of up to 4 bonus games. The bonus rounds, particularly the high-paying Crazy Time round, introduce a distinctive dimension to the game.
How does Crazy Time's gameplay unfold?
In Crazy Time, players place bets on segments of the spinning wheel, which comprises 54 sections. The wheel features bonus rounds and multipliers. Upon wheel cessation, the corresponding bonus round triggers, presenting substantial winning opportunities.